Every culture has games, and a large portion of the time, these games evolved to help children/youth learn skills and model behavior they would need as adults.
This movie follows four modern Inuit athletes, and will be 'released' April 18th it looks like.Here's the trailer:
Here's the text from the
website
, and also where you can see if it will be playing on a tv station near you (or how you can request it?):
http://nativetelecom.org/games_north_playing_survival
For thousands of years, traditional Inuit sports have been vital for survival within the unforgiving Arctic. Acrobatic and explosive, these ancestral games evolved to strengthen mind, body and spirit within the community. Following four modern Inuit athletes reveals their unique relationship to the games as they compete across the North. As unprecedented change sweeps across their traditional lands, their stories illuminate the importance of the games today.
This is also great - some grade six students at Aqsarniit School in Iqaluit, Nunavut did a project on some of their favorite Traditional Inuit Games.So, now you can learn some of the things you'd see in the movie!
Traditional Inuit Games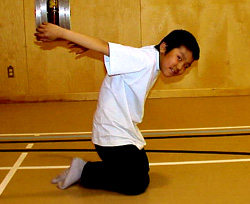 The Kneel Jump
Another resource for games from the Alaska Native Knowledge Network:
Alaska Native Games - A Resource Guide
Also, some more information from the Virtual Museum of Canada:
Living Traditions - Inuit Games
Blanket Toss: This lithograph titled "Qumuaqataijut" is by Soroseelutu Ashoona , Cape Dorset, 1976.


© 1976 West Baffin Eskimo Cooperative, Cape Dorset Nunavut